A traditionally checked shooting shirt will never look out of place in the field
We are supported by our audience. When you purchase through links on our site, we may earn an affiliate commission. Learn more
The best Tattersall shirts are design classics for shooting and a garment that no countryman or woman should be without. (For our list of the best shooting shirts see here.)
Tattersall is basically a check or plaid pattern woven into cloth. There are are numerous patterns, as you'll see in our line up of the best Tattersall shirts we've listed below. The description "Tattersall" was first used in the early 1700s and the term is drawn from Tattersall market's horse blankets. (You'll find a list of our best shooting jackets here.)
We asked a few keen Shots about what they look for in Tattersall shirts. Oliver Pope of the Wrackleford Estate said: "A reinforced collar and cuffs are essential as the shirts do need to be quite hardwearing for constant heavy use and to look smart. I also wear them with a personal connection tie (something from my past or a connection with someone who is there). "
Gundog expert and Shooting Times contributor David Tomlinson commented: "For shooting/picking up I opt for a long-sleeved cotton Tattersall shirt with breast pocket. Wearing a tie is optional but if shooting (which I don't anymore) I would wear one. If picking up or beating a tie isn't really necessary."
Shooting Times contributor and keen stalker Graham Downing said: "Tattersall check shirts in a Viyella wool and cotton mix fabric are universally popular. If you're shooting wild game, try looking for a check pattern on a green background."
The best Tattersall shirts
Best for repelling odours
Material: 100% cotton twill
Care: Machine washable
Sizes: S, M, L, XL, XXL
Colours: Carrick Yew, PCF Tattersall Check, Wimbourne Field
+ Anti-microbial finish
+ Three colours available
Musto has gained a popular following amongst shooters looking for value and quality and this shirt fills the brief. Made from a 100% cotton twill it will take you from the field to the pub effortlessly and is machine washable at 40°C.
Best for value
Material: 100% pure brushed cotton
Colour: 10  different colourways to choose from (Tan/Sky shown above)
Care: Machine washable
Length: Regular or long
Sizes: 15″ collar to 19″ collar
Sleeves: Can be adjusted to fit.
Beautifully made in a classic country design, these shirts feature a two-piece collar and a split back yoke for a smooth fit. We think they are an absolute bargain at this price.
Best for traditionalists
Material: 100% Long Staple Cotton
Colour: Blue, brown, white
Size: S to 3XL
Care: Machine washable
This is a more contemporary version of the Hoggs Pure Cotton Tattersall Shirt. It wicks away moisture, has a single yoke design and classic collar shape. At this price you could probably afford to buy two or even three.
Best for low price
Material: Easy care 65% polyester, 35% cotton
Care: Machine washable
Colours: Blue, brown/green, brown/navy, green
Sizes: S to XXL
If you're looking for a complete bargain then this regular fit Tattersall check shirt has to be it. At this price you can't really go wrong.
Best for warmer weather
Fabric: 100% cotton twill
Care: Machine washable
Colour: White/blue navy, yellow/green/amber
Size: S-XXXL
This shirt from Beretta is available in a classic mustard check but if you fancy something a little different you could opt for a yellow/green and amber shade, which would still look good in the field. The fabric has been given a high wicking treatment so you will stay cool and dry even during energetic pursuits.
Best for collar sizes
Fabric: 100% cotton
Sizes: 15″-19.5″ collar
Colours: Blue/olive, aubergine, bordeaux, red/green, riverbed, ruby
Care: Machine washable
Another well-respected name in the field, this shirt by Schöffel offers the looks and feel you'd expect. The collar and cuffs have a smart tonal lining and you can fasten with buttons or cuff links. It will look good with a jacket and tie too. (See our list of the best moleskin trousers here.)
Best for fit
Fabric: 97% cotton, 3% elastane
Sizes: 8-20
Colours: Dusty pink/chilli/green/grey, grey chilli/mode/cobalt
Care: Machine washable
Female shooters will find that a shirt cut for women will fit and flatter much more than wearing a man's shirt. This one is a classic, in the traditional Tattersall check. It's made from 97% cotton with 3% elastane which allows for extra stretch and comfort. The shirt fits beautifully under a gilet or jacket or holds its own alone, perhaps with a silk scarf tucked in at the neckline. (See our list of the best quilted jackets and gilets here.)
Best for home or office
Fabric: 100% cotton twill
Care: Machine washable
Colours: Purple/green/navy
Sizes: M, L, XXL
Lightweight and breathable, the Robbie shirt has the classic check design. It's equally at home for a day in the office or walking along the hedgerows. The Robbie has adjustable cuffs, so you can sport a favourite pair of cufflinks if you so wish. (See our list of the best shooting ties here.)

Best for travelling
Fabric: 100% cotton
Care: Machine washable
Sizes: M-XXL
Colour: Burgundy check, dark olive check
+ Non-iron cotton
The Retrieve shirt is ideal to pack in your bag if you're away shooting for a weekend or the day. Shake it out on arrival and you won't have to search for an iron.
And when you need to wash it, just hang it up on a hanger to dry afterwards until you need to wear it.
Best for freedom of movement
Fabric: 100% cotton
Colours: Blue, blue/beige, brown, brown country,  check pink
Care: Machine washable
Sizes: S-5XL
Excellent value for money, these shirts are cut slightly longer which allows greater freedom of movement. Created from 100% cotton which is comfortable to wear with very little ironing necessary.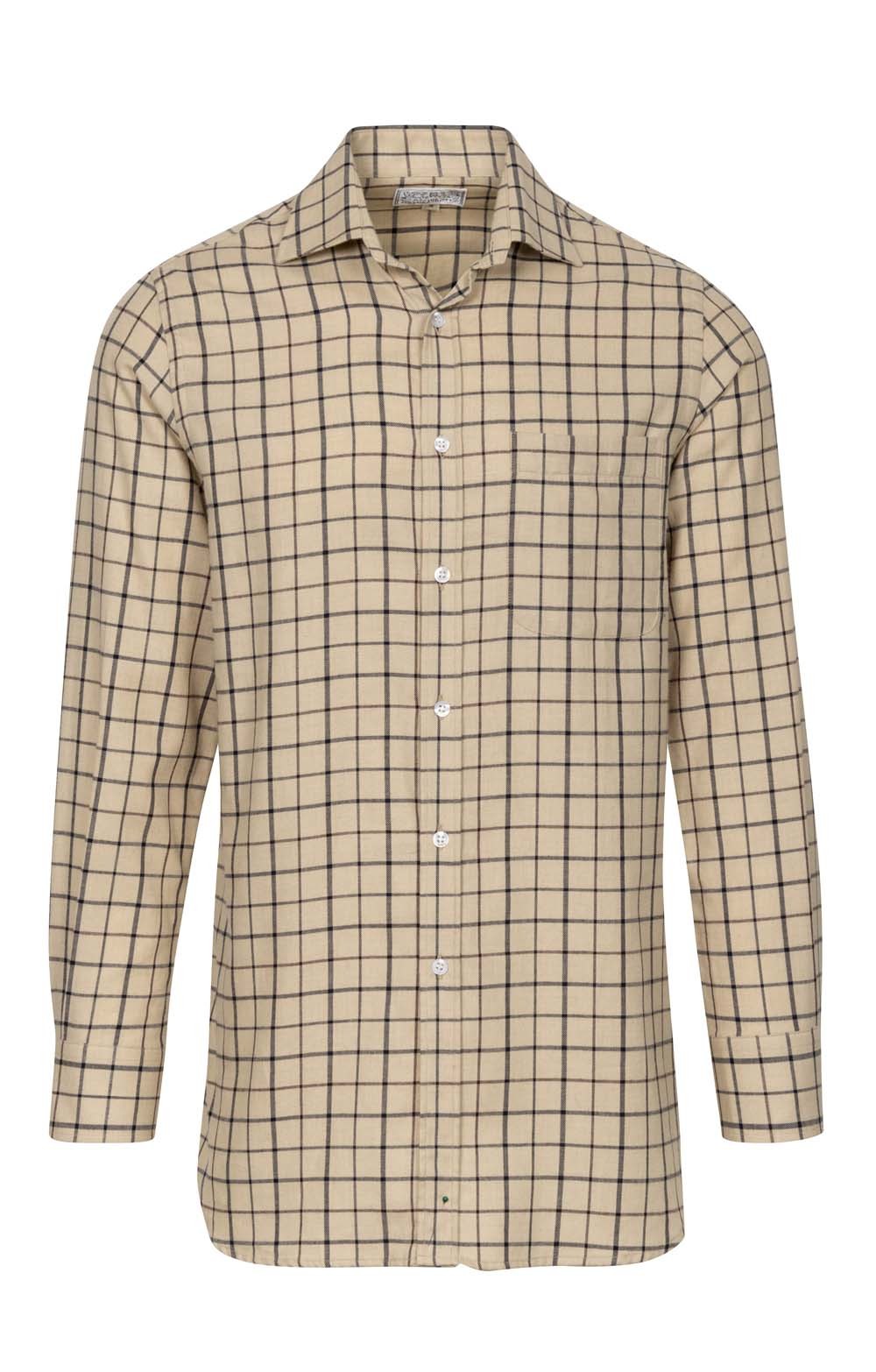 Best for warmth
Fabric: 90% cotton and 10% wool
Colours: Camel/navy/burgundy, sticky toffee, water chestnut
Care: Machine washable
Sizes: 15-18″ collar
In the winter months this comfortable and soft shirts acts as an extra layer to keep you warm whilst you're standing on the peg or out training a dog. It's made especially for House of Bruar who have a good selection of Tattersall shirts available.